Sponsors & Exhibitors
Diamond Sponsors


Zachry Corporation is a privately-owned company based in San Antonio, Texas. The company's affiliates and subsidiaries provide construction services and construction management, primarily for infrastructure projects and commercial construction, including governmental, medical and education facilities.  With 90 years of experience in the construction industry, Zachry Construction Corporation has built some of the largest transportation projects in Texas, and highways, bridges, airstrips, dams and pipelines around the world.  Capitol Aggregates, LLC, another Zachry Corporation affiliate, is a regional aggregate and cement supplier that provides superior products for customers' various material requirements in an ever-changing market.  Other affiliated companies engage in public and private infrastructure development and finance, real estate and hospitality.


Thanks to visionary volunteer leadership of AGC industry leaders, the AGC Education and Research Foundation, founded in 1968, has for more than 40 years made good on its commitment to support the future of our industry through its robust scholarship program and innovative projects.
Silver Sponsors
Wiley is a global provider of content and content-enabled workflow solutions in areas of scientific, technical, medical, and scholarly research; professional development; and education.
Headquartered in Portsmouth, New Hampshire, B2W Software is a premier provider of enterprise-class construction software and services that is redefining the future for streamlined operations. Designed and built on the ONE platform, B2W is the first and only suite of construction management solutions that puts everyone in your company—from managers in the office to foremen in the field—on the same page at the same time. Four modules form one unified suite, including B2W Estimate (estimating & bidding), B2W Track (field tracking & analysis), B2W Dispatch (resource management & dispatching) and B2W Maintain (equipment maintenance & repair management).
To get tools into the hands of the engineers and estimators of tomorrow, B2W Software is pleased to offer its unique educational program, B2W Educate. Our goal is to acquaint students with heavy civil estimating and operational software that is easy to use and can contribute to their future as construction professionals.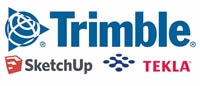 Tekla is committed to helping students become the next top line of civil engineers, structural engineers and construction management professionals. We partner up with educational institutions around the world and offer education solutions for both students and educators.  Learn more about Tekla's educational offering at www.tekla.com/solutions/educational-institutions

Strucsoft Solutions is a developer of BIM software related to light gauge steel and wood construction, with their star solution being MWF or Metal Wood Framer. MWF is a template-based and rule-driven extension to Autodesk® Revit® for framing. It empowers users to automate the modeling, clash detection and manufacturing of light gauge steel and wood framing including shop drawings, cut lists, BOM, optional CNC output and more.

Joeris General Contractors builds trust with our clients, our subcontractors and our employees in markets ranging from K-12, to Higher Education, Retail, Healthcare and more. With 48 years experience, over Three Billion in Texas construction, and offices in San Antonio, Fort Worth and Austin; Joeris provides clients with the most experienced, professional team in the state. Client satisfaction results in a 90%+ client retention rate and this success allows Joeris to provide employees with a tremendous work environment and benefits package. We are an employee-owned firm committed to our clients, our families and our communities. Our mission is to produce construction excellence on every project while providing a family-first workplace and investing in the future of our employees. We Build Trust. And Just About Everything Else Imaginable.​

Bluebeam® Software develops solutions that push the limits of collaboration, mobility and project communication. Built for the design and construction industry, Bluebeam's flagship product, Bluebeam Revu®, allows you to digitally redline 2D and 3D PDFs with customizable markups, perform electronic takeoffs 70% faster, automatically compare drawing revisions, and create punchlists that achieve 90% completion on first back check. Go mobile on a tablet PC or iPad, and use Revu's integrated cloud solution, Bluebeam Studio™, for online file storage and real-time collaboration.

The Roofing Industry Alliance for Progress (the Alliance) is a diverse, and dedicated forum of roofing contractors, manufacturers, suppliers and industry professionals who have united to help preserve and enhance the performance of the U.S. roofing industry to support three primary objectives, including supporting high-quality education programs, ensuring timely and forward-thinking industry responses to major economic and technological issues and enhancing the long-term viability and attractiveness of the roofing industry to current and future workers.

In 2014, the Alliance partnered with three construction management schools to enhance college students' experiences by exposing them academically and experientially to roofing as a career choice. Through the partnership, the universities have agreed to a three-pronged approach that includes incorporating more roofing-specific information and case studies into existing curricula; providing scholarships for construction management students and faculty; and developing industry internship programs with roofing contracting companies, manufacturers and distributors.

For more information about the Alliance, contact Bennett Judson, the Alliance's executive director, at (800) 323-9545, ext. 7513 or bjudson@roofingindustryalliance.net or visit www.roofingindustryalliance.net.

Headquartered in Houston, TX, Assemble Systems is a BIM data management software company. Its flagship product Assemble unlocks the power of model-data to create intelligent building information across the project life cycle.  Assemble allows project teams to access, analyze and share model-based building information to transform AEC processes and improve project predictability.  Assemble is used today to manage over 1,600 projects. The Assemble Systems team includes technology experts and experienced architecture, engineering, and construction industry professionals who are addressing BIM interoperability for design, construction and operation.  For more information, visit www.assemblesystems.com.
Exhibitors
Interested in sponsoring our conference? Please click [HERE] to see what options you have.